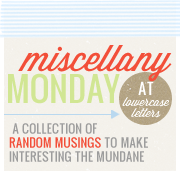 I'm full of completely random thoughts today so I thought it would be fun to join in with
Carissa
for Miscellany Monday. :)
~one~
I did absolutely nothing this weekend. Jesse was busy with an inspection, so I spent the weekend relaxing, reading, and browsing the internet. I also watched a movie. I'll just say this: Everybody's Fine and pregnancy hormones don't mix. I cried like a baby throughout the whole movie!
~two~
We have an ultrasound tomorrow! We haven't had one since I was 9 weeks so I am super excited. I'm also keeping my fingers crossed that we can get a peek at the sex. I'm still 95% sure it's a boy but I can't wait to see it on that screen. :) I think we've got our names narrowed down to the top two for a boy and we've picked one for a girl. Woohoo!
~three~
I decided this weekend that I want to be crafty. I used to do crafts every now and then, but haven't done much since we've been here. I bought
this
crochet kit from Amazon. I'm embarrassed to admit it, but I think it's actually for kids. Oh well- you gotta start somewhere. I'll let you know how it goes....
~four~
Jesse and I bought our Christmas (and anniversary/birthday/Valentine's Day/Easter) present to each other this weekend.
This bad boy:



Canon EOS Rebel T2i
I have always wanted to learn the basics of photography and now that we have the little one on the way, we thought it was time to invest in a nice camera. It'll also be nice to have during our travels over the next few months. I've been reading photography blogs all weekend. I have so much to learn but I'm so pumped! Now I just have to be patient- it won't be here until December 29th, but at least I'll have time to learn a thing or two before I actually use it. If you have any recommendations for sites to learn, or any tips in general, please pass them my way. :)
~five~
We have a
winner
for my giveaway! Random.org chose #8,
Joy at
Our Lives for God's Glory.
Congratulations Joy- I hope you can use the gift card for your precious baby girl! Email me your info to
littlemoments2011@gmail.com
. Thanks to everyone who entered- I appreciate all of you more than you know!

I hope everyone is having a fabulous Monday!