Whatcha got cookin'? Hopefully something better than me! Haha! No really, in all seriousness I'm working my hardest to become a better cook. While we were in Africa we had a full time cook so we basically didn't cook at all for almost a year and a half. Needless to say, it's taken us a bit of time to get back into the meal planning, grocery shopping, and cooking mode. I've been trying to do a weekly menu and shopping list and it has gone pretty smoothly except for the occasional impossible to find ingredient. That being said, I'm always on the lookout for easy and healthy dinner ideas and ways to make dinner prep easier!
While on my quest to become a better (and more efficient) cook, I recently read all about freezer cooking
here
. After reading Natalie's post, I purchased
Don't Panic: Dinner's in the Freezer
.
I read the whole thing from cover to cover but I have to be completely honest and tell you I
did
panic! The amount of planning and preparation that goes into real freezer cooking is tremendous! I didn't think we were quite ready for that yet but I did follow some of the advice that Natalie put in her freezer cooking post. I bought 4 lbs of hamburger meat. We cooked all 4 lbs- half of it Mexican style and the other half regular (with shredded carrots, onion, and bell pepper to bulk it up) and then we divided into quart size bags.
We got six bags out of the 4 lbs we cooked. I was pretty happy about this because we usually cook a whole pound for a recipe and then end up wasting a lot of it. This way, I can cut recipes in half and it makes the perfect amount for the two of us. It has worked perfectly so far. I usually take the bag out of the freezer and put it in the fridge the day before I need to use it. By the time dinner time rolls around it is thawed and ready to add to any recipe. This has saved me tons of time in the evening when I'm getting dinner ready. I really hate cooking hamburger meat so it's so nice to have it ready to go. So far I've used our hamburger meat to make a few different recipes and I've been pleased with the results.
Baked Spaghetti
Beef and Bean Chimichangas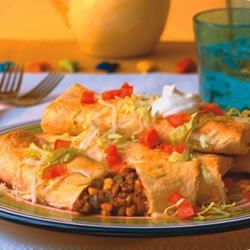 I also bought a whole chicken and boiled it as the blog suggested. Can you believe that was my first time to ever cook a whole chicken? The real reason I did this was for the broth. I can't find canned chicken broth anywhere here so I decided to try to make my own. I used
this
recipe and the chicken and the broth turned out great! I shredded the chicken and divided it into two bags and then I divided the broth into 1 cup portions and froze all of it. So far I've used one of the bags of frozen chicken in a stir-fry. It was delicious and you would never know that the chicken had been frozen.
Overall I've found that this modified version of freezer cooking really works for us and it is definitely something I'll keep doing. It seems to really cut down on the amount of meat we waste and it saves money because we buy less! (Which is a really good thing because groceries are SO expensive here!)
And of course I can't end a cooking post without sharing my new favorite recipe:
When it says that it is the best broccoli of your life, it is no joke. It is SO, SO, good. In fact, it's so good I made it twice in one week. It's so good that you should go to the grocery store and buy some broccoli NOW. Trust me, you will not regret it!