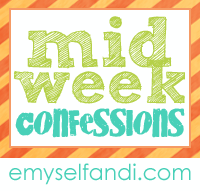 I'm joining in with E, Myself, and I for Midweek Confessions.
I confess:
I'm completely addicted to Amazon one-click shopping. I usually get on there to look for one thing and end up buying 5 because it's just too easy! It does save us money in the long run because it keeps me from buying stuff here, but it is a bad habit I need to break!
I drink a minimum of 2 large cups of coffee per day. Coffee makes me happy.
I'm dying for a Diet Coke RIGHT now! I've had one this week and I swear as soon as I have one I start craving them. I'm sitting here chugging my water instead.
I miss Target.
I have tons of blog posts I want to write but by the time I sit down at the computer at the end of the day I'm too tired/lazy to write them.
I haven't started Emerson's baby book. I plan on doing a photo book instead of a traditional baby book and I've found a lot of cute ideas but I haven't started putting it together. I did do one of her first week and it took me about 5 hours total so I can't imagine what kind of time it will take to document every second of her first year.
I really, really want to get a blog book printed for 2010 and 2011 but I think they're kind of expensive!
I have 1,959 pins on Pinterest and I've actually completed about 5 projects that I've pinned. Oh well- at least I'll have plenty of ideas catalogued for when I need them. :)
Speaking of projects, I haven't sewn a single thing since I made Emerson's fabric book for Christmas. I really want to but it's just not possible with little miss crawling around like a wild girl.
I took the iPad to the gym with me last night and watched a tv show while I ran. It made the time go by really fast but it seemed kind of weird.
I'm in love with this song:
I love me some Bob Marley and could listen to it all day. Change it to a kid's song and actually let a little kid sing it... melt my heart. I first heard it on
Loni's blog
and immediately went to iTunes to download it. While I was there, I found a few more songs by Elizabeth Mitchell. LOVE her! We've had her songs on repeat for several days now. And don't even get me started on her version of You Are My Sunshine. It makes me tear up every.single.time.
I can't imagine why.
:)