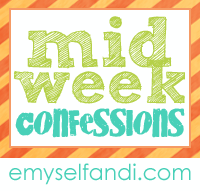 I confess:
I am not a fan of the monogrammed bikini craze. Don't get me wrong- I love all things monogrammed, but I think it's a little much on the bikini top- at least for adults anyway.
While I'm on the subject of fashion (of which I am NO expert) I really don't like a lot of the trends that are happening right now. You will never see me in neon colored clothes or cropped t-shirts. Reminds me way too much of my 80's childhood.
I need some new clothes SO bad but I can't find anything I like here and it is so hard to shop online. I will definitely be shopping when we go home this summer.
I didn't finish Project 365 with Emerson. I made it to about 34 weeks with a picture every day and then I missed a few days here and there. I might just go ahead and make weekly collages with the pictures I have even if some of them are from the same day. I do have about 12,000 pictures of her so surely I can figure something out.
I've been terrible about drinking water lately. My goal this week is at least two huge bottles every day.
I still haven't decided on a theme for E's first birthday. I'm stuck between You are My Sunshine and Emerson in Onederland. I really, really need to make a decision so that we can get started on the party planning.
I'm bad at making decisions. Obviously.
We had Indian food last night and I ate like it was my last meal. But it was worth it because it was OH SO GOOD!
Emerson is napping and I'm supposed to be working out right now but I'm drinking coffee and blogging instead.
Reading my pregnancy posts from last year and seeing all my pregnant friends makes me miss being pregnant! I loved it so much and I can't wait to do it again. But don't worry guys- No plans for Baby #2 in the near future!
What are your confessions this week? Link up at
E, Myself, and I
to share!