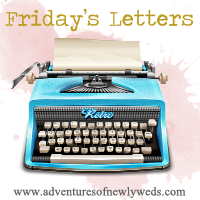 Dear Car,
Darn you for breaking down and costing an arm and a leg to get fixed. There goes Emerson's first semester of college! But thank you for waiting until I was in the parking lot to do it. I would have died if you had died in this crazy traffic.
Dear USA,
In case you didn't know- you are the best country in.the.world. I can't wait to step foot on your soil again! I might even go to Target and just sit in an aisle
all day
for a while. I will also be consuming an unhealthy amount of Mexican food.
Dear Emerson,
I hear you up there yelling in your crib. It's nap time girlfriend! I promise you we will play all afternoon, but first you have to take a nap.
Dear Exercise,
Why must we have such a love-hate relationship? I know that you and I must meet again today but I will be honest and tell you that I am definitely avoiding you right at this moment. If only blogging and drinking coffee could get me in shape.
Dear Bloggity Blog,
You are almost two years old! Crazy, no? Thank you for giving me a place to share my life and document our memories. Most of all, thank you for allowing me to "meet" so many awesome people.
Dear Saltykins,
Have I told you lately how much I love you and appreciate you? Or that I am SO proud of you? You're the best and Emerson and I are so lucky to have you.