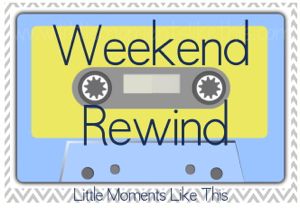 Hey everyone! I hope y'all had a nice weekend. I'm so excited for this first edition of Weekend Rewind. I love posting about what we did during the weekend because it's so much fun to look back and see how we spent our time as a family. I can't wait to read all about everyone else's weekend too.
I do have to be honest though- we didn't do a single exciting thing this weekend. :) That's okay, though. I'll still share, even if it bores you to death.
We kicked off the weekend with a little playdate at the park. Emerson and her little friend had so much fun running around and climbing. Of course, they had to stop for a few snacks along the way.
While we were there a huge bus full of preschoolers arrived. They, along with their teachers, surrounded us to get a closer look at the little blonde babies. Then one of them whipped out her cell phone to take a picture and I finally had the courage to say no. I mean, I know E's picture is plastered all over my blog for anyone to see, but I just think it's weird that a stranger wants to take her picture. Up until recently it was so hard for me to tell people no, but I've gotten better about it and had no problem this time. We actually ended up moving to another area of the park so the girls could play in peace. I think it's sweet that everyone here loves babies so much but sometimes it can be a bit overwhelming.
Unfortunately the rest of the weekend was spent with a sick little munchkin. Her nose started running on Thursday night and then she started coughing and ran a low-grade fever. I could tell that she wasn't feeling well because she just wasn't her usual self. We gave her a little bit of Tylenol and did the only thing there is to do at a time like that. We hung out in our jammies for most of the weekend.
We played, we read books, and we did lots of sleeping and cuddling.
By Friday night she seemed to be feeling a little bit better. Jesse went to play night golf with one of his buddies and I had a little Grey's Anatomy marathon. I'm still not caught up but I'm getting there.
We really didn't do anything on Saturday except for hang out. Even though it was pretty hot we thought it was best to keep Emerson out of the pool until she is well. We did spend some time outside though and the fresh air seemed to perk her up. She played outside on our patio for a little bit and we took several walks around the compound.
It's still surreal to see her walking right next to me. I just love it. She is getting more and more steady each day but that definitely doesn't stop her from falling. She took a few pretty good falls this weekend and has a nice little scrape on her forehead and her nose. Poor thing!
The highlight of our weekend was purchasing our tickets for our trip home this summer. I've been trying to decide forever when we should go and what airline we should use. I'm so glad to have that taken care of and I am SO looking forward to the trip. I can't wait to see these two (and everyone else too!)
And I can't forget our big splurge. Baskin Robbins! Jesse had some extra cash so he decided to run to BR. This is what he came back with.
Yes, I know. Incredibly healthy. It was our one last splurge before going on a healthy diet this week :)
And that, folks, is the extent of our exciting weekend. Luckily Emerson seems to be on the mend and we are looking forward to another fun-filled week. Hopefully we won't melt in this crazy heat!