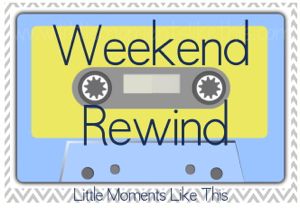 Happy Monday y'all! I hope you had a blessed weekend! I know Mondays are usually blah but I'm pretty excited about this one because it's time for another edition of Weekend Rewind. I can't wait to read all about what y'all did this weekend.
I loved the way that Ashley at
Better Together
formatted her post last Monday, so I'm copying her idea. Hope you don't mind Ashley! :)
So, without further ado...
This weekend we:
......shopped at the mall for several hours and left only with a pair of baby water shoes that are 2 sizes too big
.....played baby dolls
....discovered a fun new game: rip the bow off every time Momma puts it on
......took a nice, long afternoon nap
.......grilled chicken and stuffed jalapeños. Need I say more?
.......had the pool to ourselves
.....played several rounds of pool golf
.....took over the baby pool with the lounge chairs
....watched Emerson walk all over the baby pool like she owned it (before we put in the chairs! ;)
......read too many books to count
......started watching one movie, but never finished it.
.....gave the blog a little facelift.
....played, and played, and played some more.
......acted a little silly.
......finally got some new pictures of the three of us for the first time since January!
....and had THE best time just hanging out.
I hope y'all did too!