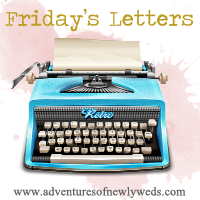 Dear Turbo Fire Inferno,
You kicked my butt over the last five days. 5 workouts + completely clean eating= hard work! It's been fun. Okay, not really. But it's been worth it and I'm glad to be done with with you. Now bring on the Snickers. Haha. Only kidding. Sort of.
Dear Blog Friends,
I am SO excited that 27 of you linked up for the first edition of Weekend Rewind this week. I loved reading about all of the fun things you did. Hope to see you again on Monday.
Dear Oscar,
Hang in there bubba. You are a tough boy! We love you so much and we will see you soon.
Dear Emerson,
You cannot drive until you are at least 30. Don't even try to argue with me, young lady! Yes, you look fabulous behind the wheel but that is beside the point.
Dear Time,
I don't mind one bit if you go a little bit slower over the next two weeks. This tender Momma heart is not quite ready for the baby girl to be
one!