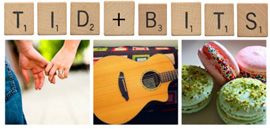 1. I love having my bestie and her sweet girl here. Emerson and Ann Elise are having a blast and they are just too cute together.
2. Have you tried Skinnygirl Margaritas? If not, you should get some ASAP. Delicious, I tell you!
3. I am in love with the baby book I ordered for Emerson. I know- kinda silly to order a baby book after your baby's first birthday. I had originally planned on doing a photo book for her baby book but then I saw this one at the bookstore and I just knew I had to have it. It's designed by the same designer that designed all of the fabric in Emerson's nursery (Dena Designs) and the cover is made with one of those fabrics so I just knew I had to have it. Now I just have to go back and fill it all out. Good thing I have blogged all of her milestones! :)
4. I got THE cutest necklace from Charlotte Russe for 5 bucks! Yes, 5 bucks. I love good deals on cute, cute stuff! I couldn't find a picture on their website so this silly picture will have to do.
5. Is anyone else as obsessed with stationery and pens as I am? My big splurge at Target yesterday was some new Sharpie pens. Now my endless lists will look a little bit prettier.
6. July is going to be a busy month of traveling and I am so looking forward to it. I'm especially excited to see my sweet nieces again. Emerson just loves them.
7. We're planning on taking the girls to the spray ground today. Hopefully they will have a good time and we won't melt!