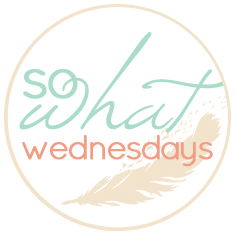 Today I'm saying so what if:
I put on my workout clothes this morning with the full intention of working out, but made coffee and sat on the couch with my laptop instead.
I slept with half the lights in the house on last night. Jesse had duty so it was the first night E and I have been alone in our new place.
I spend more time pinning ideas for house projects/organization than actually doing them.
I have major writer's block when it comes to blogging. I guess I need some inspiration...
I have a spring/summer wish list that is a mile long. We have so many great stores around us and I am having a hard time staying out of them! ;)
I haven't used my embroidery machine in two weeks. All of my good fabric is in our shipment from Abu Dhabi and I'm about to go crazy waiting for it.
I get SO excited when we take E to do new things. Just seeing the absolute joy in her face is enough to bring me happiness to last a lifetime.